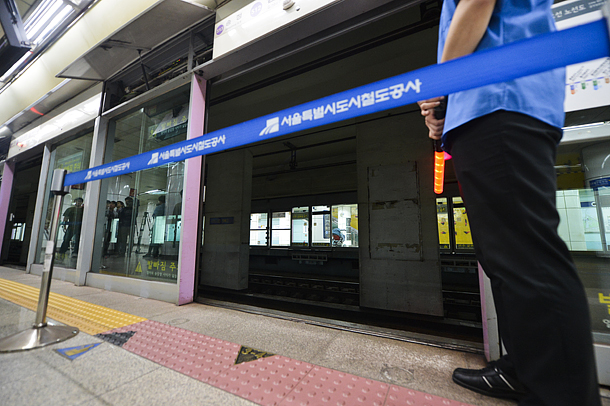 Passenger dragged to death after being caught between door and subway
BY KIM YUNA [kim.yuna1@joongang.co.kr]
A 36-year-old passenger surnamed Kim was dragged and killed by a departing subway train, after he got trapped between the platform door and the train at Gimpo International Airport Station in Gangseo District, western Seoul, on Wednesday morning. Seoul Metropolitan Rapid Transit (SMRT) said the specifics as to how he got stuck are not yet known.
According to SMRT, an engineer was preparing to start the train and closed all the platform doors when he received an emergency call saying a passenger was trapped inside one of the platform doors. The engineer reportedly reopened the platform doors for roughly 27 seconds, but did not get off to check if there was a problem. He restarted the train without realizing Kim was still between the platform door and subway train.
"CCTV footage showed Kim being pulled from the platform through the screen door's emergency exit," said an official from SMRT. "An employee at the station made an emergency call, but Kim wasn't breathing."
Kim was taken to nearby Myongji Hospital, but it was too late.
"There are sensors to recognize and stop the subway train if any objects are inside the platform door," continued the official, "but the sensor somehow malfunctioned and we're trying to find out why."
Gangseo police in Seoul said Kim did not appear to have suffered any major injuries except for a right arm fracture. They plan to do an autopsy. Police will further investigate the case to find out why Kim was not able to step outside the platform door, although the door was kept open for a relatively long time. Police said it will take time to find witnesses because the accident took place early in the morning. Police will also question the engineer to find out what went wrong.
This was the third time a subway train has killed a passenger inside a platform door this year. In February, an 81-year-old woman's bag got stuck inside a platform door at Seoul Station and the subway train dragged her and killed her. The engineer was alerted that a platform door was open, but restarted the train after only taking a look. A teenage mechanic, who was repairing a platform door, was also killed by an incoming train in May at Guui Station.
"It's a shame that the tragic accident couldn't have been prevented," wrote Seoul Mayor Park Won-soon on his private social media account after visiting the scene. "I will do my best to reveal the cause of the accident and never let something like this happen again."
Meanwhile, labor unions of Seoul Metro, which runs subway line Nos. 1 through 4, announced they will end their strike, starting from Wednesday morning, to ensure public safety.
Source: http://koreajoongangdaily.joins.com/news/article/Article.aspx?aid=3025101