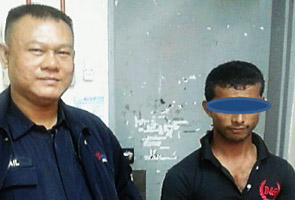 Reckless dash across platforms caused Monday's LRT halt – Rapid Rail
KUALA LUMPUR: A 'daredevil' passenger demonstrated an involuntary reckless stunt in his attempt to board a Light Rapid Train car forcing the train to make an emergency stop near the Jelatek Station on Monday evening.
Rapid Rail Chief Executive Officer, Khairani Mohamed in a statement on Tuesday said, the 33-year-old foreigner was apprehended by the station personnel before handing him over to the police.
It is hoped, said Khairani that he is charged as a deterrent to others.
The never-seen-before stunt which occurred during peak hour led to the delay of services following the forced obstruction of the platform screen doors system (PSDS) at the Dang Wangi underground station.
The reckless action, Khairani added, could also endanger the lives of hundreds of passengers.
In the incident which occur on Monday, the Kelana Jaya LRT train was forced to make an emergency stop near the Jelatek Station when a foreigner dashed across the platform in his effort to board the Kelana Jaya-bound train.
"While no one was hurt in that incident, the action triggered the Passenger Intrusion Emergency Stop (PIES) system which is the key safety feature installed in the auto-operated Kelana Jaya line.
operates automated or driver-less trains.
"The activation of the PIES temporarily halted the operations of the entire Kelana Jaya Line.
"By the time the line was cleared for operations, evening passenger traffic had started to build up at many stations, causing congestion at station platforms and longer waiting time," said Khairani.
Khairani also prohibits passengers climbing down the track to pick up their belongings such as mobile phones or token to avoid service interruptions.
According to Rapid Rail, eight intrusion cases were recorded on its Kelana Jaya Line and one on the Monorail Line in January 2015. More than 60 percent of the intrusions were caused by foreigners.
In a separate incident, forced obstruction to the Platform Screen Doors System (PSDS) due to passengers rushing to board the train had caused the temporary suspension of the PSDS at the Dang Wangi underground station.
As a result, trains en-route to Kelana Jaya had to by-pass the Dang Wangi underground station and passengers had to board the train at Kampung Baru station, instead.
"We urge the commuting public to be more mindful and not to obstruct any platform screen or train doors as it would disrupt our services and causes inconvenience to other commuters.
"Passengers carrying large backpacks or bags to remove their items before entering the train, especially during peak hours.
"Passengers must also refrain from putting their hands or legs in between closing doors at any time," said Khairani.
Source: http://english.astroawani.com/malaysia-news/reckless-dash-across-platforms-caused-mondays-lrt-halt-rapid-rail-54935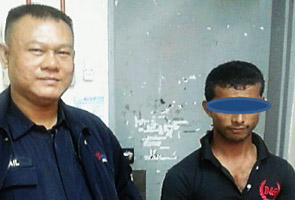 The foreigner (right) who allegedly intruded Jelatek station LRT Train on Monday. – Rapid Rail Photo