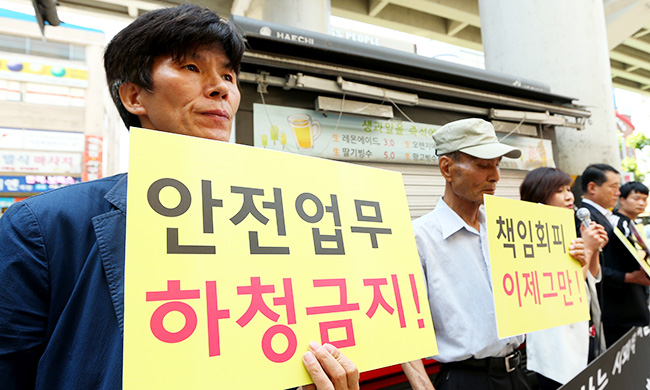 Subway accident shows safety ignored
By Lee Kyung-min
The recent death of a subway maintenance worker has shown that subway operators and subcontractors have ignored safety regulations.
Although they pledged to improve the situation after a similar incident took place in 2013, the latest fatality seems to show that they failed to do so.
The maintenance worker, surnamed Kim, 19, died after being hit by an arriving train at Guui Station on Line 2 in eastern Seoul last Saturday. He was repairing a malfunctioning platform safety door.
Kim was one of 125 employees assigned to fix 7,700 platform safety doors at 97 stations, employed by Eunseong PSD, a subcontractor for Seoul Metro which operates lines 1 through 4 under the Seoul Metropolitan Government (SMG).
Alongside Kim, only five mechanics were assigned to repair the doors at 49 stations north of the Han River. The subcontractor refused to increase manpower to save costs.
In 2014 alone, platform doors on the four lines had some 12,000 malfunction reports, an average of more than 30 a day. Upon receiving a report, mechanics should arrive at the station in less than an hour or face penalties, according to the contract.
Guidelines state that at least two workers are required to do on-site work, looking out for each other to spot oncoming trains. But Kim was alone.
He is the first to have died after the guidelines were set up in 2013, following two similar deaths.
Seoul Metro neglected its duty to check whether the subcontractor was abiding by the guidelines.
A simple remote communication device to warn him about the arriving train could have saved his life, according to his coworkers.
"He could have gotten out of the way if someone had just told him. It was a manmade disaster," a man working for Eunseong PSD said.
Calls are growing for Seoul Metro to halt outsourcing practices and hire all of its safety and maintenance workers as full-time employees.
"We must fundamentally change our society that keeps producing preventable tragedies," Justice Party Chairwoman Sim Sang-jeong said.
"Seoul Metro's irresponsible, indiscriminate corner-cutting practices caused the death. Furthermore, Seoul Metro is not the only company with such dangerous practices."
In response, Seoul Mayor Park Won-soon vowed to completely revise the outsourcing practices of city-run companies. He visited Kim's family at Konkuk University Medical Center Tuesday to offer his condolences.
"This tragedy highlighted the brutal reality that the young generation is facing," Park said.
He added that the city will set up a fact-finding committee to determine the cause of the incident.
"I feel responsible. This case will be thoroughly investigated, and those responsible will be held accountable regardless of rank," he added.
The Ministry of Labor and Employment said it plans to launch a special audit of Seoul Metro to examine safety rule violations.
Source: http://www.koreatimes.co.kr/www/news/nation/2016/09/116_206051.html