Users still trespassing LRT rails for various reasons
By JADE CHAN
INCREDIBLE as it seems, there are people who jump onto the LRT tracks to pick up fallen belongings or take photos. These acts not only pose a danger to them but also other passengers riding the LRT.
Another common reason for track intrusions is when passengers dash across the tracks to get to the right platform.
Rangkaian Pengangkutan Integrasi Deras Sdn Bhd (RapidKL) Commu-nications Division general manager Ebi Azly Abdullah said such acts court danger and disrupted the LRT services.
"About 36% of offenders are foreigners or tourists who want to take pictures of the train; the rest are locals who want to pick up their fallen items like tickets and mobile phones, or take a shortcut to get to the right platform.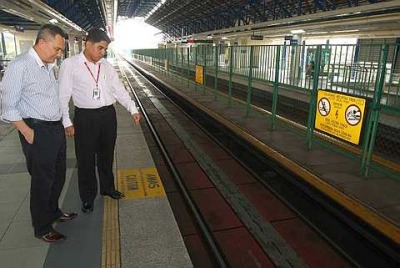 RapidKL Rail Operations senior manager Ismail Abdullah said all LRT stations along the Kelana Jaya Line were equipped with the Platform Intrusion Emergency Stop (PIES), a set of red plates that activated an emergency stop once anything more than 7kg landed on it.
"The system was put in place as a preventive measure for the automated train system, to block the train from proceeding.
"Once the PIES is activated, the train will automatically stop, and the ones who are immediately affected will be the train passengers, as they will be jerked forward and could even get injured," he said.
He added that fences were built to prevent the incidence of people crossing the LRT tracks (despite signs that warn passengers not to do so as it is a high voltage area).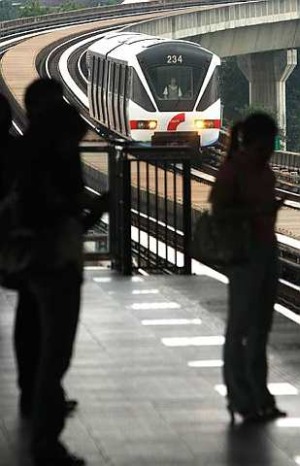 "A total of 195 track intrusion cases were reported last year, an increase from the 191 reported cases in 2007 for the Kelana Jaya Line. As for the Ampang Line, it recorded a total of 11 incidencts last year, compared with 12 in 2007," said Ebi.
"The stations where track intrusions frequently occur are Pasar Seni, Wangsa Maju and Bangsar."
He said there was 3% increase in the number of cases between 2007 and 2008, and attributed it to the increasing number of LRT users.
"If caught, our security personnel and auxiliary police officers have been instructed to send the offenders to the police station for further action, where they could be charged under Section 62 of the Train Act 1991," said Ebi.
"Track intrusions will cause train frequency delays and flow interruption, as it takes three to four minutes for us to normalise the system. If passengers are seriously injured, it would take a longer time as we need to provide emergency aid.
"Such incidents also add to the wear and tear on the train wheels," Ismail said.
"We are planning to beef up our security staff and are looking at introducing the Platform Screen Doors System, where the installation of waist-high screen doors would limit the passengers' movements and prevent further acts of track intrusion."
Ismail advised passengers who needed help to pick up a fallen belonging to request assistance from employees on duty (including security personnel), who would inform a qualified station staff member to attend to the problem and immediately assist through the proper procedures.
On a separate matter, Ebi said new four-car trains would be used for the Kelana Jaya Line from September onwards, thus doubling the existing 472-people capacity of its current two-car trains.
Source: http://www.thestar.com.my/story/?file=%2F2009%2F1%2F19%2Fcentral%2F3010578