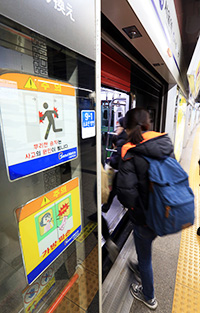 Woman dies in subway door accident
By Kim Rahn
An elderly woman died Wednesday after her purse was caught between a subway train and a platform screen door at Seoul Station, and she was dragged until she fell onto the tracks.
According to police, the woman, surnamed Seol, 81, got stuck while exiting the train at 9:04 a.m. She was pulled for about seven meters between the glass and the train and before falling on the tracks.
Witnesses said the accident happened because her purse was caught in the closing subway doors and she tried to pull it out.
The subway doors and the platform screen doors closed at the same time and the woman was caught between them, but the train departed without the engine driver noticing this.
"When the rescue team arrived, she was already dead with a serious head injury," a police officer said.
Police are investigating the exact cause of the accident, reviewing surveillance camera footage. They are also looking into whether the engine driver followed safety rules. Seoul Metro, the operator of subway lines 1 to 4, said the platform screen door was operating normally at that time.
The accident caused a suspension of subway operations between Seoul Station and City Hall Station for about five minutes.
Source: http://www.koreatimes.co.kr/www/news/nation/2016/02/116_197226.html